Shopify is one of the most affordable ecommerce platforms. It is favoured by numerous small business organizations who want to sell niche products on the Internet. Industry experts believe that Shopify powers more than 30,000 websites, and has helped ship over 20 million products till date. Shopify allows users to quickly and easily create their online store without any technical work involved in designing and developing a website. There is no need of investing a huge amount of money in building a website.
This basic guide has been specifically designed for competent webmasters and search engine optimization experts with some understanding of coding required for websites. In this post, we have not covered all the basics, but focus on certain aspects that help you learn more about Shopify SEO. With the tips and strategies discussed below, you will be able to make the most of this ecommerce platform.
Redirect Non-WWW to WWW
Google and other major search engines consider www.google.com and google.com as different websites. In simple means, this means that major search engines have difficulty determining which version of the website to index. In addition to this, it means if your website is linked to different blogs and websites using a combination of two different URLs, you may be diminishing the overall value of links to your website.
In order to resolve this issue, it is important to create a standard 301 redirect. You should go to the Preferences tab and click on the DNS & Domains page. You should check the tab for Always Redirect Customers Here beside the primary domain. This makes sure your customers and major search engines visit the right website.
Redirect Old Pages
In case you do not stock an item any longer, you need to redirect the customers and major search engines to an alternative category or product page. It is worth mentioning that you should not use a return 404 Not Found request. You should redirect, especially on pages with links from other authority websites. Fortunately, Shopify SEO comes with an easy to use tool. The Redirect feature in the Admin's Navigation Tab can help you achieve this task.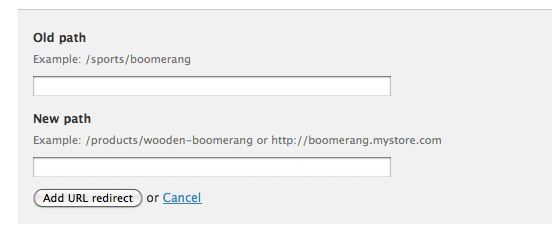 Title Tags for Humans, Format for Search Engines
There is no doubt that the title tag is considered to be the most important tag on the web page. It tells Google what a web page is about. It is very important for the SEO strategy to have unique titles for every page. According to industry experts, title tags should not be more than 70 characters long, including important keywords and spaces. Shopify provides you with an easy and convenient way to modify title tags and URLs for categories, pages and products.
Google Cares A Lot About Meta Descriptions
Google wants snippets to represent the web results accurately. Most search engines prefer to display various meta descriptions of pages, whenever available, because they give users a good idea about the URL's content. It is quite easy to add an exclusive meta description to the store. You just need to click Preferences, followed by General Settings.
It is important to mention facts about the page's content. These facts should be different from the ones represented in the title
You need to make sure the meta descriptions are very easy to ready. They should be less than 156 characters long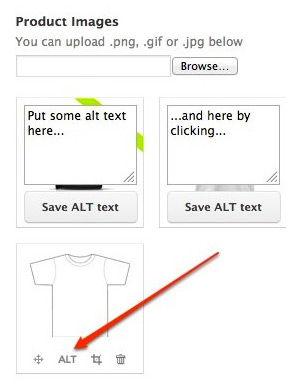 When you want to enjoy exceptional user experience, it is important to add alt tags to images. These tags should describe the images. The concept of alternative text is to provide you with a textual replacement for images. This should convey the same thing as communicated by visual appeal of the image. When you do not add alt tags, your images are not compliant with certain guidelines set by major search engines.
Tips for Good Product Descriptions
You should not use manufacturer's product descriptions
You should focus on singular keywords on the product page
You should add keyword rich links and keywords
You should tell people something unique
You should tell people what problem is solved by the product
You should use testimonials
You should answer customer questions, such as dimensions, size, batteries included etc.

Avoid Duplicate Content
When it comes to search engine optimization, duplicate content is considered to be one of the biggest mistakes of webmasters. It proves to be the biggest nightmare. It is worth mentioning that duplicate content is common with ecommerce websites and content management systems. Most webmasters create duplicate content to make sure people are able to navigate to a page in different ways. However, this technique can backfire and lead to disastrous results. It is important to use fresh and unique content for the website.
Google Analytics
When you're focusing on Shopify SEO, you need to understand that this platform passes ecommerce data to Google Analytics when you connect everything together. You just need to provide Shopify with the Google Analytics property ID. You also need to switch on ecommerce tracking in Google Analytics. It's that simple!
Link Building
Since the late 1990's search engines have used links as votes – representing the democracy of the web's opinion about what pages are important and popular. The engines themselves have refined the use of link data to a fine art, and complex algorithms create nuance evaluations of sites and pages based on this information – SEOmoz
It is important to understand that there are numerous ways to get links to your website. Link building is one of the most important aspects of search engine optimization. With backlinks from authority websites, you're able to improve your search engine rankings in major search engines, such as Google, Yahoo, Bing and more.
It's important to add content on a regular basis to the blog. You should use internal links to the shopping categories and products. This proves to be the most effective way to achieve good rankings. You should contact reputed bloggers and ask them to review your products. You can even offer them exclusive discounts on certain products. This is considered to be a profitable investment.
It's necessary to increase the chances of people sharing your products and services on various social media websites, such as Pinterest. Thus, you should add social sharing buttons to all the product listings. It's better to create worthy content on the blog. This should be promoted to other webmasters in the industry. Last but not the least, you should contact suppliers and ask them to link to your website. Authority backlinks are the easiest and most effective way to improve ranks.