The life cycle of a web page on StumbleUpon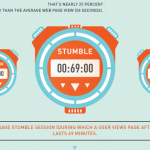 According to StumbleUpon, they account for half of all social media traffic in America and users stay on sites they've Stumbled for longer than the average viewer spends on a site, and the life of a link shared on StumbleUpon appears to have a shelf life that is a lot longer than the other social networks. Just last month, we reported that StumbleUpon hit 20 million users and has over one billion stumbles per month and continues to grow.
Click here for tips on how to use StumbleUpon to improve your blogging efforts.